Match 1: 30 Singles Neil Stutchbury beat Matthew Alden 6/5 6/2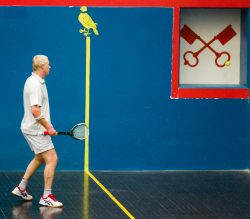 The first match saw some fantastic tennis between Cambridge's Stutchbury and Radley's Alden, "on loan" from Oxford for this match. Stutchbury began with some clinical execution into the backhand corner to race to a 4-0 lead in the first set, but Alden started to dig them out and turn the rallies into his power game. Slowly, Alden fought back to 4-all and 5-all, with the frustration beginning to show for Stutchbury. Finally, he pulled through the first set 6-5 by some excellent play to both sides of the court. Stutchbury continued the momentum into the second set sweeping the first four games again to 4-0. Despite some hard forcing from Alden, to pull back a couple of games, Stutchbury held his nerve to win by defending some short chases.
Match 2: 50 Singles Gerald Smith lost to Martin McNair 5/6 1/6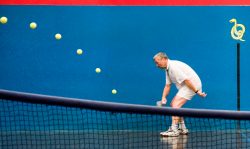 G. Smith was playing against the odds, with an opponent who had dropped several handicap points since the cut-off in September. Nevertheless, he raced to an early lead, finding the right length of his shots and consistently hitting the tambour. At 3-0, McNair started to find his serve, but G. Smith held steady to 5-2. However, the match quickly fell into a familiar pattern. G. Smith struggled with the serve, reaching a lead in most games but dropping a chase and struggling from the Hazard end. McNair built momentum, taking the first set 5-6 and then racing through the second set to take the match 1-6.
Match 3: 35 Doubles Julian Stafford and Andy Smith lost to Rupert Henson and Tony Munsey 4/6 6/3 6/4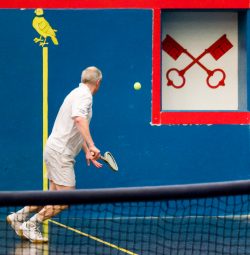 The match was truly an epic. Having just arrived at the court, Stafford and A. Smith were straight on for their warm-up. In their way was the fast paced play and heavy boasting of Henson and Munsey. Cambridge started poorly, with both Cambridge players making several unforced errors as Radley raced to a 1-4 lead. Eventually, though, Cambridge found a little bit of momentum and and brought back a couple of games. They even defended 3 set points before finally succumbing to a wayward force at the dedan.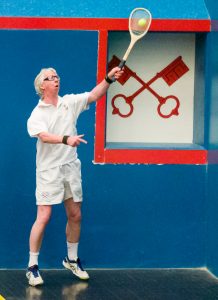 Cambridge carried the momentum into the second set as the Cambridge pair started to get the hang of the court. Stafford was swiping at anything that came near him and A. Smith was digging everything out from the corners on the main wall. The ball pinged all over the place but Cambridge got a lead in the set and held onto it. A quick return game by A. Smith followed by some long drawn out rallies gave Cambridge the second set 6-3. The intensity dropped a little at the start of the third, Radley going up 0-2, but then everything seemed to find the strings of the Cambridge rackets. No Radley force seemed to go in, and Cambridge had an answer for everything. The crowd was jubilant as Cambridge won four games back-to-back, and had a chance at going within one game of the match. It was not to be; Radley stuck to it and pinned Cambridge at the hazard end for a few games to benefit from the last swing in momentum. A final game shot at the winning gallery on Hazard One found the Hazard Second Gallery post and the game was over.
Match 4: 40 Singles Aaron Wienkers lost to Magnus Garson 1/6 5/6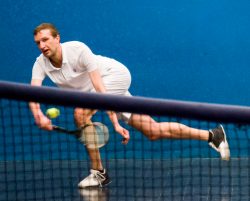 Soon after this match started, it was clear that Wienkers was being outclassed. Garson, a year 11 student, was covering the court brilliantly and showing some excellent forces into the dedans. Wienkers tried, yet failed to get a backhand volley time after time, as Garson raced through the first set 1/6 and looked like he would wrap it up quickly. But Wienkers dug deep at the start of the second set. His volleys started to work properly, and was testing Garson out in the backhand corner. First one game, then another and Wienkers was on a roll. The galleries started buzzing again, could he pull off an upset? The score was 3-2, then 4-2 and at 5-2 it looked like Cambridge were back in it. Garson provided a couple of excellent service games to drag himself back in it, and Wienkers didn't even get a set point until the score was 5-5, 40-all, at which point Garson laid a worse than a yard chase and it was all over.
Match 5: 45 Doubles Ben Geytenbeek and Christie Marrian lost to Ed Alder and Dom Stone 2/6 2/6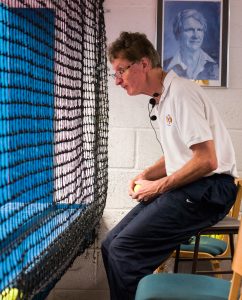 The fixture by now was well and truly decided in Radley's favour, and it was left to the school's rackets and lawn tennis champions to seal the deal over Geytenbeek and Marrian. The Cambridge duo tried hard to get some momentum, but anything even remotely down the centre of the court was volleyed from the galleries hard into the grille or the tambour and the point was lost. They struggled to find a chase as the athletic youngsters seemed to get everything back. They managed to string together a few games here and there, but whatever wimpering of a resistance they compiled was beyond futile.
Thanks go to Chris Ronaldson (above right) and Nino Merola for their marking, the latter having played in the British Open earlier in the day, and to Maggie Henderson-Tew for catering and hospitality.
Ben Geytenbeek
Google Photos Album with above pictures and much more: RadleyBrodie