Peter Paterson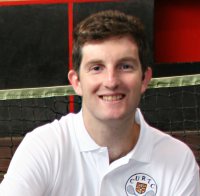 Peter worked at the Cambridge Real Tennis Club for 5 years and had the honour of being the previous professional Brian Churches' last assistant.
He kept the court going for 9 months after Brian left until Kees arrived as Head Professional. He worked with Kees for 3 years before taking up the position
of Head Professional at Jesmond Dene in January 2000.
Peter has now returned to the fold and rejoined CURTC in November 2001.
Peter has a well deserved reputation for dependability and solidity. He is an enormous asset to the club and is very welcome now he has returned!
Peter won the Kenney Cup in 2000.
He is married with two young daughters.
If you would like to contact Peter you can call him on 01223 357106 or email him at peter@curtc.net
© Cambridge University Real Tennis Club 2001
and from 2016…