2nd's Varsity Report
Posted on February 28, 2019 | in Giraffe, Match Report | by Christie Fixtures
Oxford took home the honours at the 2019 Varsity Seconds match in Cambridge last weekend. Play started on Friday afternoon with a win to Alex Reyner (Oxford), whose overhead lawn tennis serves had a strange knack of striking the back penthouse and falling near the fault line by the grille, which Cameron Roker (Cambridge) struggled to deal with. By contrast, Isobel Lewis's (Oxford) overhead serve spun out, cramping into Jacqueline Siu (Cambridge). Jacqueline had some early chances and benefited from the support of divided loyalties from Isobel's family in the dedans, but Isobel kept cool to take the match.
| | |
| --- | --- |
| | |
Oxford also got off to an excellent start in the Men's match, as Ben Barber (Oxford) was able to play the ball all over the court and out of the reach of Kevin Heffernan (Cambridge). Cambridge could hardly even catch a break in the doubles. The strategy of playing Rosie Taylor (Cambridge) at the net for the first time didn't pay off for the Giraffe Club Cup finalists, as Taylor and Siu were beaten comfortably by Jenny Jones (Oxford) and Lewis. Finally, in the Women's first seed doubles did Cambridge start to look competitive. Roker and Krittika d'Silva (Cambridge) were running neck and neck with Reyner and Olivia Becher (Oxford), before the dark blue pair pulled out a decisive lead at 7-5. But d'Silva and Roker were determined not to let Cambridge down, saving an impressive seven match points (including a dedans on chase a yard) before finally succumbing 6-8. Cambridge had another glimmer of hope in the Men's first seed singles, as Aaron Wienkers (Cambridge) found some fight against Freddie Freeman (Oxford), but despite some impressive tennis, lost 4-6 4-6.
Oxford started the second day having already secured the Women's trophy, but Rosie Taylor showed that there was still fight in the light blues. Her cross hairs were firmly set on the dedans, and threatened to take a set from Jenny Jones, but Jones held strong to win 6-2 6-4. The Men's doubles matches followed, both ending with a 8-3 Oxford victory, owing to a fast start by both pairs. Cambridge seemed to settle later in the matches, but by that time it was too late.
With three matches to go, Cambridge were looking to salvage some pride, Ed Tillson (Cambridge) fought hard against Hugo Shipsey (Oxford) but was playing with a heavily strapped wrist after a recent bike-related incident. Ben Geytenbeek (Cambridge) pushed Ivo Trice (Oxford) as far as he could, but Trice had pinpoint accuracy in placing the ball in the corners for a few too many short chases.
Going into the last match, it was all on the Women's captain, Krittika d'Silva, to get something for Cambridge. She went on to play the match of her life, retrieving almost everything and hitting some glorious backhand volleys to the base of the tambour, a shot that she later claimed to have never played before. She outclassed her opponent, Olivia Becher (Oxford), and played almost faultlessly, winning 6-0 6-0, the only match for Cambridge, and the only double-bagel of the weekend.
Huge congratulations to the Oxford team and their pro, Craig Greenhalgh, on their victory. Special thanks to the Kees and Peter for their tireless marking, to Louise Ludekens for her excellent lunch on Saturday and to all of the senior members who brought cakes and nibbles for the players. Further thanks to Christie Marrian and Paul Brown for their work streaming the event online to viewers and supporters on at least four continents**, and to all the students who had a turn on the commentary microphones. Attention now turns to the First team, who are in action at Lord's this weekend.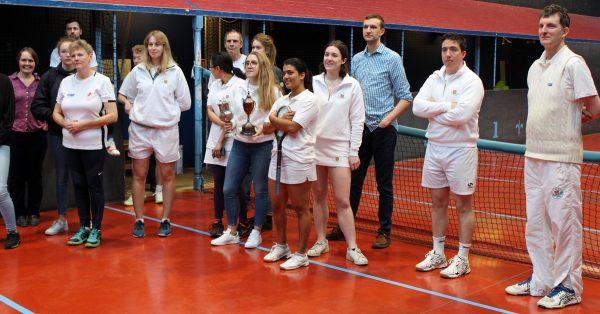 RESULTS
Friday:
– Women's 2 Singles: Alex Reyner (Oxford) def Cameron Roker (Cambridge) 6/0 6/1
– Women's 3 Singles: Isobel Lewis (Oxford) def Jacqueline Siu (Cambridge) 6/1 6/0
– Men's 3 Singles: Ben Barber (Oxford) def Kevin Heffernan (Cambridge) 6/1 6/1
– Women's 2 Doubles: Jenny Jones and Isobel Lewis (Oxford) def Jacqueline Siu and Rosie Taylor (Cambridge) 8/0
– Women's 1 Doubles: Alex Reyner and Olivia Becher (Oxford) def Krittika d'Silva and Cameron Roker (Cambridge) 8/6
– Men's 1 Singles: Freddie Freeman (Oxford) def Aaron Wienkers (Cambridge) 6/4 6/4
Saturday:
– Women's 4 Singles: Jenny Jones (Oxford) def Rosie Taylor (Cambridge) 6/2 6/4
– Men's 1 Doubles: Ben Barber and Freddie Freeman (Oxford) def Aaron Wienkers and Edward Tillson (Cambridge) 8/3
– Men's 2 Doubles: Ivo Trice and Hugo Shipsey (Oxford) def Ben Geytenbeek and Kevin Heffernan (Cambridge) 8/3
– Men's 4 Singles: Hugo Shipsey (Oxford) def Edward Tillson (Cambridge) 6/0 6/2
– Men's 2 Singles: Ivo Trice (Oxford) def Ben Geytenbeek (Cambridge) 6/1 6/0
– Women's 1 Singles: Krittika d'Silva (Cambridge) def Olivia Becher (Oxford) 6/0 6/0
Ben Geytenbeek
**