Alastair Kwan takes 30-39 Trophy
Posted on March 18, 2013 | in Tournament | by Christie Fixtures
The CURTC 30-39 Category Tournament was played on Sunday 17th March 2013.
Two keenly contested groups fought it out for semi-final places. In one group Alastair Kwan dropped only 2 games in winning all three of his matches while Julian Stafford, Paul Brown and Gary Weller won a match apiece. The second semi-final place was claimed by Julian Stafford who won most games overall in his three matches.
In the second group John Firth took the top spot by winning all three of his matches. The runner-up was decided in the final group game where James Thomas beat Paddy Ward.
The semi-finals were both taken by a score of 6-1: Alastair Kwan against James Thomas, and Julian Stafford against John Firth.
In the final, Julian Stafford took the first game but then fell 1-4 behind. He took one more game but the superior play of Alastair Kwan took the set, match and tournament by 6-2, despite some thrilling rests that could have gone either way.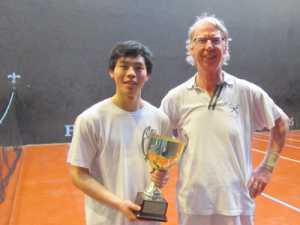 Category 30-39 finalists: Alastair Kwan, Julian Stafford