Busy weekend for our student players: Pt 1 CURTC Ladies visit Newmarket
Posted on February 21, 2023 | in NewsTicker | by Christie Fixtures
On Sunday morning, 6 CURTC Ladies set off to Newmarket for an away match. For many of us, it was the first time playing on a different court to Cambridge, so you could feel the excitement in the air!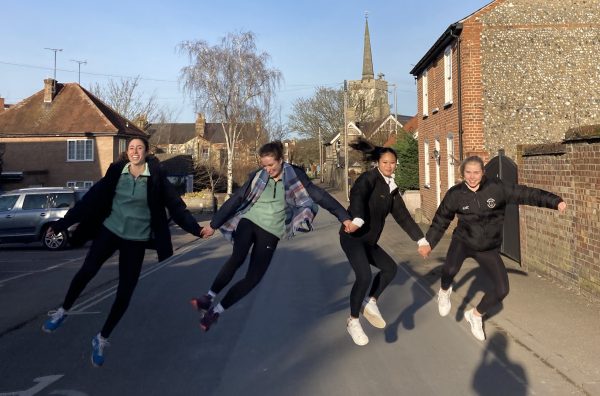 The morning started with Ulla Petti (W1) facing her long-time nemesis, Adam Mackintosh. After Ulla's comeback from 0:4 down, Adam managed to keep his focus, and just like at their previous match in Prested, beat Ulla by one game – this just calls for a rematch! Next up was Anna Chesca (W1) against Logan Crawford – the games were close, but Anna's mind-blowing talent brought home a 6:8 win. Lucy Caines and Ulla (W1 doubles) played the first doubles of the day against Adam and Logan – practising the formations and calling for shots at the student tournament the night before paid off, and CURTC ladies achieved a 7:5 win in a close match. Following the doubles, our newest addition to the lovely group of CURTC Ladies – Isabelle Olaes – played her first ever match against George Aretakis. While George's serves were challenging even to the more experienced players, Isabelle surprised us all with her fast learning and enthusiasm, and managed to win a whole game against George. Go Isabelle! Phoebe Fox (W2) made it look easy – middling the ball and hitting the tambour, she brought home two wins for Cambridge – singles against Bill Mackintosh (10:2) and doubles with Isabelle against Graham and George (10:4). Lucy's singles was a close one, with a deciding game going to Jeremy Barnett, and the match finishing in 8:7. After a collective decision, Stacey Sandigrurskaia (W2) played her singles against Bill – a 6 points lower handicap – off level. Although finishing second, she was only one game away from winning the match – final score to Newmarket 6:7.
With the first 8 matches finishing in 4-4 between Newmarket and Cambridge, the winner of the fixture came down to the final match – a doubles between Anna and Stacey, and Graham and Jeremy. The game was intriguing – both the audience and the players kept their eyes closely on the ball and helped with the sound effects! With unbelievable volleys from the lawn tennis blues, Cambridge ladies took a win of 10:2, and the final score of the day was 5-4 to CURTCL.
It was a great day full of emotions, fun, and competition – we thank Newmarket for inviting us, Bill for organising, Andrew and Adam for marking, and Giraffe Club for the support! Looking forward to our next fixture against Newmarket!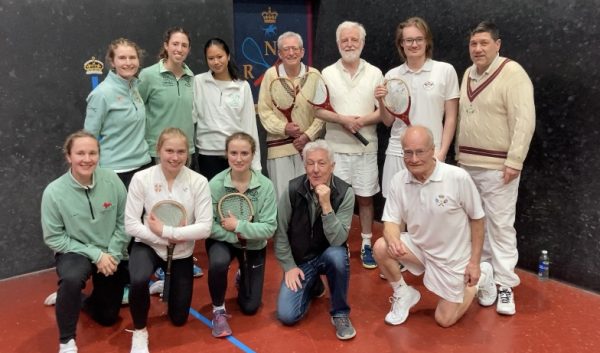 Ulla Petti, CURTC Ladies Captain