Cambridge win at MCC – Saturday 11 Dec, 2010
Posted on December 14, 2010 | in Match Report | by Pro CURTC
The opening game in this inter-club friendly fixture of doubles was won by Charlotte Breen and James Campbell who overcame more experienced opposition to set us on our way. However Andrew Petrie and Rory Davidson were beaten in two sets to level the match.
Jeremy Davidson and Keith Beechener restored the lead, then David Pimblett and Matt Barr (a late inclusion into the squad) extended it in Cambridge's favour to 3-1. Malcolm Howlett and Gerald Smith were overcome in the tightest game of the day despite taking it to 5-5 and 40-40 in the deciding set.
Tom Hartley and Ian McGonigal made the result certain with a comprehensive victory in the final game and Cambridge took the match 4-2.
Keith Beechener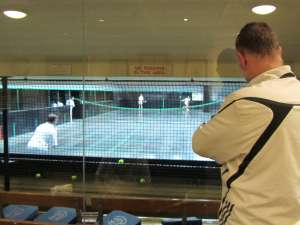 Cambridge playing the MCC at Lords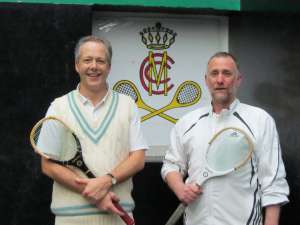 Tom Hartley and Ian McGonigal at Lords