CURTC Ladies at Hatfield House, Sunday, 29th October
Posted on November 6, 2023 | in Match Report | by Christie Fixtures
Hello again. It's me Brooke The Dog back from another real tennis awayday. On a soggy Sunday I had the Reviers drive me to the elegant and dog-friendly Hatfield House. It's on what was a Jacobean housing estate and, the Reviers tell me, an hour down the A1 but I just slept all the way. Always do.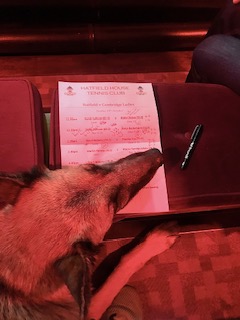 Cambridge's tennis started rather well with Anna Chesca all too easily beating Hatfield's Sarah Sullivan whose sole game brought a sympathetic cheer from the dedans. Once Anna left the court, more ordinary service was resumed. Sonja Badenhorst beat Hatfield's Steve Sullivan 6/3 6/3 in an entertaining game. I could then only watch as the players enjoyed a rather attractive lunch but, sadly, not only was I not invited, I wasn't given the plates to clear. After lunch Phoebe Fox looked set for victory until Hatfield's Ros Emrys-Roberts rallied after taking mid-match potions that were probably leftovers from an Eastern Bloc athletics tournament such was her improvement and she won over three sets. Stacey Sandigurskaia then produced some of the day's more elegant ground strokes against Hatfield's Martin Hornsby. Sadly, they were into her side of the net and she, too, lost over three sets. This left Camice Revier and Tim Emrys-Roberts with the decider. Camice won the lengthy first set 6/4 but went 0/4 down in the second leaving us expecting the joys of a third and Jon, Hatfield's scoring pro, could hardly contain his disappointment at missing out on one more set as Camice fought back to win 6/5.
I rather enjoyed the day as, I think did the players.
Next week I'm taking the Reviers to Wellington for a weekend of handicap doubles tournament. I'll let you know how they get on.
Brooke