CURTC Ladies Club Championships 2014
Posted on February 3, 2014 | in NewsTicker, Tournament | by Christie Fixtures
This year saw a large entry to the ladies tournament with 16 players competing. It was very encouraging to see juniors, students and seniors represented in the draw, indicating growth and competitiveness within the female component of the Club.
The tournament started with round robin groups;. There were four clear winners – congratulations go to Fiona Stewart, Karen Pearce, Imogen Whittam and Venetia D'Arcy.
In the latter knock-out stages of the tournament, Venetia defeated Fiona but was unable to cope with Sonja Badenhorst's powerful floor game. Sonja gave Linda Fairbrother a run for her money in the first semi-final, surging ahead to take a 4-0 lead. However, Linda, in true Fairbrother fashion, fought back and finally clinched victory 8-6.
In the other half of the draw Karen took on Imogen and through slightly superior power and court coverage was able to progress to play Louise Ludekens in the second semi-final. Karen's accurate serving was noticed by the crowd and both players enjoyed some long rallies and tense moments, but Louise's experience enabled her to win 8-1.
Louise and Linda stood in familiar territory facing each other in the final for a further year. The games were very close and well contested, but Louise managed to win the crucial points, securing a 6-2, 6-2 win, to retain the title.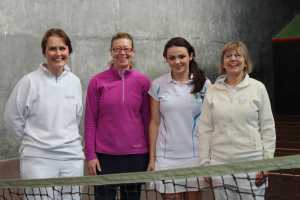 Louise Ludekens, Sonja Badenhorst, Venetia D'Arcy, Linda Fairbrither Ladies Tournament semu-finalists


Linda Fairbrother and Louise Ludekens (winner) Ladies Tournament final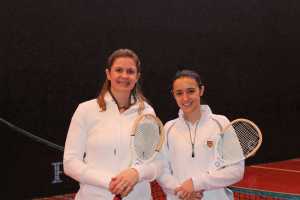 Karen and Imogen Whittam Ladies Tournament quarter-finalists