CURTC visit Hatfield House
Posted on January 22, 2020 | in Match Report, NewsTicker | by Christie Fixtures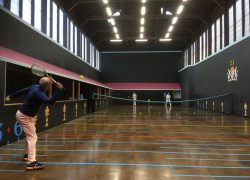 The first away fixture for 2020 took a team of ten players to our near neighbours Hatfield on a crisp Sunday morning.
The first match saw Ben Geytenbeek and Andy Smith (Cambridge) up against Mark Wilcox and Joe Thompson (Hatfield). Cambridge raced to a fast start, with Smith playing some excellent retrieving especially from the backhand corner and Geytenbeek just holding on to Thompson's fast cut volleys. Cambridge took the first set 6/1, but lost a little concentration to let Hatfield into the second set. It soon became clear that the hazard end was the safe place to be with Thompson's hard forces at or under the dedans. A little more to and fro and Cambridge took the second set 6/4.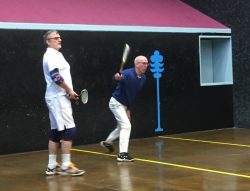 The second match, however, did not go as smoothly for Cambridge. Howard Mason and David Pimblett (Cambridge) against Adrian Akers and Steve Jones (Hatfield. Both players struggled with returning the odd serves and large cut from the back wall. They fought hard though, keeping the first set alive for as long as the could but by the second set the Hatfield pair were in their groove. Hatfield took it 4/6 1/6.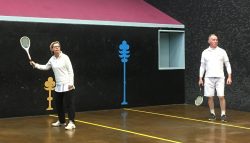 Lunch was soon served with as much pasta bake that Hatfield's two ovens could cook. In the meantime, Tony Kennedy and Sonja Badenhorst (Cambridge) took to the court against Stuart Rose and Peter Joy (Hatfield). The match was an entertaining one, with plenty of banter between the players and the now-satiated crowd. Kennedy was keen to try out the "local serve" from the previous match: an overhead pique from the main wall, with varying success. Kennedy has less success with the local rules, falling foul of Hatfields peculiar top netting rule several times. Yet he was able to combine with Badenhorst's consistent volleying, Cambridge won the match 6/4 6/4.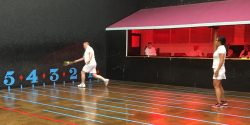 David Isherwood and Jacqueline Siu (Cambridge) then took on Chris Sheriff and John Longhurst (Hatfield). It was a tough fought match, with swings of momentum between both pairs. Siu and Isherwood were able to get the ball back over the net enough times to ask questions of the Hatfield pair. Hatfield needed a win to stay in the fixture, but they were denied 6/4 6/4.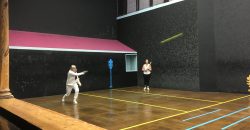 With the tie secured, the final match was between Camice Revier and Gabrielle Bailey (Cambridge) and Jill Akers and Lis Hughes (Hatfield). Despite the high handicaps, the tennis was enthralling, leading to the closest set of the day. The games oscillated between the two pairs, control of the serve being key. Unfortunately, Hatfield held on, and took a lead early in the second set that Cambridge couldn't claw back. The final score was 5/6 3/6.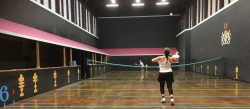 It was an excellent day of tennis, with thanks to both teams, especially Joe and Jill for their wonderful lunch and to Jon Dawes for his dutiful marking.
Ben Geytenbeek