CURTC vs RTC: The Final
Posted on July 9, 2016 | in National League, NewsTicker | by Kees Ludekens
The CURTC stars played magnificently to defeat RTC 2-1 in a very close Div 5 Final.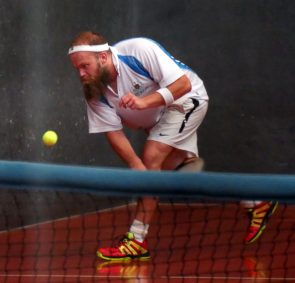 The confident CURTC Captain, Jimmy Campbell, promised Kees a 10 pm end to the the event, and who would doubt him; the team's preparations could not be faulted – weekly fitness session with Karen Pearce and early morning practises with Duncan Colquhoun, Scott and Kees should have made for a quick victory.
Clearly wanting to demonstrate his new levels of fitness, Jimmy Campbell lasted longer than ever before (2 and 1/2 hours!) to clinch victory over ex Cambridge Blue Simon Fox by 2 sets to 1 (4/6, 6/4, 6/5).
Andrew Petrie left no room for questions, overpowering his opponent Fred Satow in two clear sets (6/1, 6/1).
Charlie D'Oyly played a confident first set winning it 6/2; however, his opponent Geoffrey Russell came back fighting and took the second two sets (3/6, 3/6).
Pork pies and beer made a welcome post match meal. Jimmy really went the extra mile to make the guests feel welcome, showing serious attention to detail by trimming his beard to resemble the picture of Henry 8th positioned in the grille at RTC.
Kees