Dr Nigel Brown, O.B.E.
Posted on January 21, 2023 | in Membership | by Christie Fixtures
Sadly, we report that Nigel died peacefully on January 19th, 2023.

Nigel, together with Fiona, was a crucial and seemingly ever-present member of Cambridge University Real Tennis Club for close to fifty years. A Renaissance man of many talents and enthusiasms, Nigel discovered real tennis as a convert from squash, and became both a very good player and a passionate lover and advocate of the game in all its aspects. Coached initially by Brian Church, Nigel never ceased to analyse the game – and his own game – and to seek to improve his technique and tactical skills, as I was able to witness at first hand as a regular opponent, but also as one of his doubles partners. It was impossible not to enjoy a game with, or against, Nigel, so infectious was his enthusiasm. As in everything he undertook, he wanted everyone to share his passion, and his unwavering support and generous sponsorship helped to ensure the steady development of the club. Without his advocacy and contribution, for example, it's unlikely that the world champion
Rob Fahey
would have thrown his lot in with Cambridge, to the inestimable benefit of the club, and to the evident progress of many individual players, particularly the younger generation, who Nigel consistently encouraged.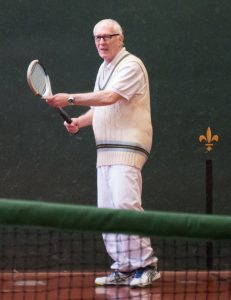 Nigel clearly believed in the old adage, that if something was worth doing, it was worth doing very well, and he was adept at persuading others to adopt that philosophy. He genuinely wanted the pleasure he derived from real tennis to be shared as widely as possible, and was constantly introducing others to the delights of the game, either as players, sponsors, or spectators. And all this was achieved with modesty and great good humour, and infused with a terrific sense of fun, without any sense of rush – so it was a shock to learn, or remember, that he was a man of so many other commitments, responsibilities and interests, deservedly recognised by, for examples, his O.B.E. (2008), his honorary doctorate from Anglia Ruskin University (2004), his appointment as High Sheriff for Cambridgeshire (2010/2011), or his Honorary Fellowship at Hughes Hall, or his Associateship of the Royal Academy of Music  Then there is his successful business career, as the founder of N.W. Brown Group Ltd., the classical music agency Hazard Chase, the Stradivari Trust, and numerous Chairmanships of public bodies such as the Greater Cambridge Partnership and the Arts Theatre Trust. The list is seemingly endless, and I am only mentioning the areas that I became aware of through conversations over the fifty years or so of our friendship. For more detail, I think you will find the Hughes Hall posting, and the citation for Nigel's doctorate from Anglia Ruskin, especially illuminating. Also, under the Stradivari Trust, the story of how Nigel came to acquire a Stradivarius for Nigel Kennedy.
Nigel was a wonderful companion, full of warmth and positivity, and a very generous man, especially with his time. He enjoyed fine wine, and introducing it to his guests. I remember one evening when we drank a delicious Chateau Palmer, a wine I'd tasted at the vineyard near Bordeaux earlier in the year, so precious that we had not been allowed to buy even one bottle.  Something special, to be shared with friends. I find it hard to realise that Nigel, with all his dynamism, is no longer a part of the Cambridge and national scene. Fiona's death coincided with a sudden decline in his own health, and in recent months he had been a shadow of his former unique personality.  But he leaves a rich legacy.  We send our sincere condolences to his son Ben, and to the rest of his family.
Peter Raby, former CURTC President