Early exit from Brodie Cup
Posted on November 23, 2011 | in Match Report, Tournament | by Christie Fixtures
On Sunday 20th November a team from CURTC traveled to Lord's to play the MCC in the second round of the 2011/12 Brodie Cup. All 5 matches were keenly fought and when skipper Gerald Smith and Keith Beechener won the first set of the first rubber (45 handicap doubles) there were great expectations of a result in our favour. However a change of tactics by the MCC pairing saw a change of fortunes and the rubber was taken to 3 sets and won by the home team.
Roger East and Nic Rhode (30 and 40 handicap singles respectively) each fought tense encounters and despite early promise yet again the home side edged two more victories to secure the tie. Gary Weller then took the 50 handicap singles in two straight sets to recover some pride for CURTC.
In the final rubber (35 handicap doubles) Julian Stafford and Jimmy Campbell fought hard and deserved to narrow the deficit but eventually succumbed to the dominant MCC. The only ashes brought back from Lord's Cricket Ground were the remains of CURTC's hopes of progressing in the Brodie Cup. The experience will only make the team stronger and we aim to be more competitive next year.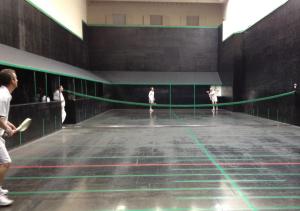 CURTC v MCC in the Brodie Cup