East Anglia Cup+, 60+
Posted on June 27, 2022 | in Match Report, Tournament | by Christie Fixtures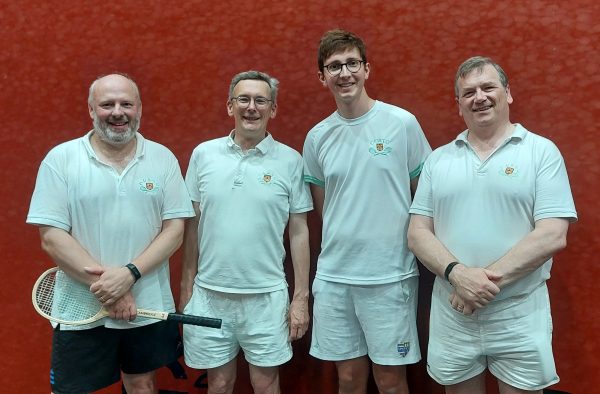 The team of four from CURTC (James Downson, Ashley Courtney, Igor Sterner, and Alasdair Bovaird , above) were warmly welcomed at the Prested Tennis Club for the annual East Anglia Cup+. As a cup which had been running for over a decade, yet impeded by the pandemic, there was a common excitement for its return.
Our first round of matches were against Prested themselves. Both Igor and Alasdair lost their first singles matches 4-8 and 6-8 respectively. Alasdair's game down to the knuckle with a last minute come-back, but it was lost on a 40-40 game point in the end. Both were excellent matches, but strength and familiarity on the Far Court of the hosts proved too good. Our doubles pair, Ashley and James, made up for this by winning 8-2. Their consistent play took the lead from the beginning and went on to take this solid win.
Promptly next began our matches against Newmarket Real Tennis Club on the more modern Glass Court, which felt like more familiar territory. Igor began with a very strong win of 8-0, taking control of the game early. Alasdair then beat his singles opponent in another strong performance, including serving for three games straight taking the scoreboard from 3-3 to 6-3 and finishing at 7-4. Similarly, the doubles pair won a tight doubles match for us 8-5.
Our final matches were against Hatfield House and Igor came back from losing the first games to win 8-4. Alasdair fought hard in his final singles match, with a particularly determined effort from his opponent, ultimately loosing with a close 6-8. At this point Prested were a single win ahead of CURTC, meaning a Cambridge win and Prested loss would take us to 1st place. While our doubles team won valiantly to play their part, the final Prested doubles win left us with a successful 2nd place overall.
It was a wonderful day out and we are all immensely thankful to the team at Prested that made the day happen. CURTC looks forward to hosting next year's edition. Until then.
Igor Sterner, CURTC Student President 2022