Getting the Royal Treatment
Posted on December 18, 2018 | in Match Report, NewsTicker | by Christie Fixtures
CURTC braved the latest named storm (Deirdre?) last Saturday to visit the latest of the Real Tennis Courts at Hampton Court. Sadly the 16th century court is no more so we had to make do with the 17th century version. The place is steeped in history and as a recent guide to tennis (1553) states,
this game has been created for a good purpose, namely, to keep our bodies healthy, to make our young men stronger and more robust, chasing idleness, virtue's mortal enemy, far from them and thus making them of a stronger and more excellent nature
I guess, not much has changed in the intervening centuries beyond the benefits now being available to both men and women and no longer restricted to the young.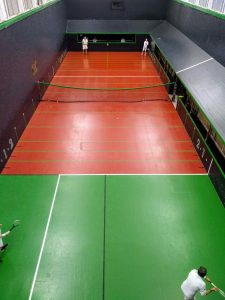 The court is huge but quite bouncy so getting a hazard chase proved surprisingly (depressingly??) easy, as I was to discover. CURTC's day had started brightly on both the trains and the M25. The brightness continued as Jo & Dave overcame a major handicap disadvantage and two spirited opponents and we moved smoothly through the first set and to a 5-3 lead in the second.
What could possibly go wrong, you dear reader, and those in the Dedans could reasonably ask? Lunch it appears. The Dedans emptied and so did our fortunes. This sadly presaged a rather dramatic change in CURTC's day as the G-Men took a bit too long to come to grips with the Court. However, to be honest I did not see much more than the last point of their match as I was discovering quite how splendid the lunching arrangements were both in the Club and the neighbouring Palace. TK & Andy also struggled although it did give me an opportunity to take a photo showing quite how large the court seems.
| | |
| --- | --- |
| | |
Alas I missed DHR's noble effort to make the scoreline more reasonable as I had to venture out into Deirdre to find a train. This proved remarkably easy until we made a un-scheduled stop at Stevenage. A tree had buried a train and Royston, the driver breezily told us followed by 'I'm going to open the doors in case anyone would like to get some fresh air'. 'Oh dear tree' (Deirdre, geddit? No, Ed), I thought but I can take a hint so I sprinted* for a cab…
2018 Royal Tennis Court v Cambridge Results-1

*Yeah, ok, slight exaggeration but reads better than 'lumbered'