Green Still Green
Posted on August 28, 2019 | in Membership | by Christie Fixtures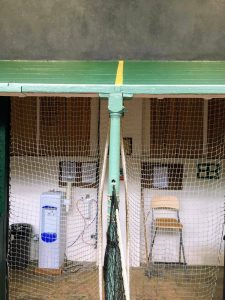 The CURTC interior design team turned its attention to the Green Court over the Bank holiday and I'm sure that everyone will be pleased to know that the Green Court is still very much Green. In addition, the Penthouse planks now have ~700 more fasteners holding them in place, and the Penthouse, Galleries, Bandeau, Net Post, Grille and Chase lines have been refreshed.
After: The first game on the new Green Court
And During:
Special thanks to Kees and Simon who drove the whole process and the numerous volunteers who gave up their time.