Linda Runner-up in British Ladies Handicap
Posted on November 17, 2015 | in NewsTicker, Tournament | by Christie Fixtures
The last time Linda had an identical success in the Brit Handicap was over 20 years ago, when she had only been playing for about 2 years. So it's a case of twice a bridesmaid, but not yet a bride… Linda says that Kees'advice before the tournament was to be decisive, and think positive, whoever the opponent, which seems to have worked a treat until out-gunned in the Final.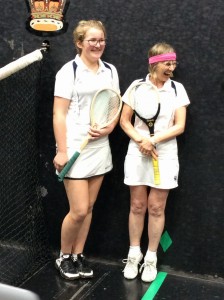 Note that Linda is on tiptoe for the photo – to much derision from the Dedans. The 2nd photo is of course of us reacting to the derision…..
Linda Fairbrother, our current Ladies Champion, played with (almost) great success in the Ladies British Handicap Tournament November 13th to 16th at Leamington. She was runner-up in the Division 1 Singles tournament, playing seven matches over 2 days, and succumbing in the Final to Georgie Willis, aged 17, (just a few decades younger….).