LRTA National School Girls Tournament 15th/16th January 2022
Posted on January 27, 2022 | in Tournament | by Christie Fixtures
Many thanks to Vix and the LRTA for the report and photos…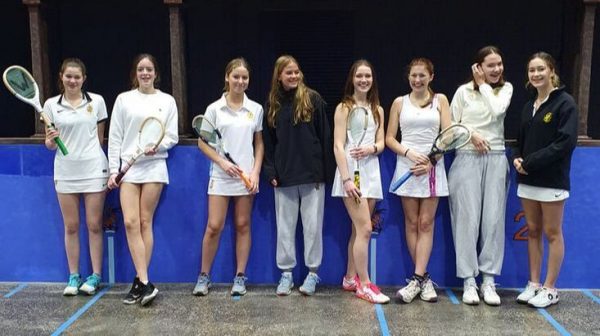 This is an exciting time for junior girl's tennis as seen at the National Schools Tournament held at Wellington last weekend. The standard of play is greatly improving and with the wonderful number of entries from Wellington, entries from the Oratory after just one terms tuition from team Fahey, as well as entries from Cambridge and Bristol, it is very encouraging.
The U15 singles and doubles events were held on Saturday and U19 events on Sunday with group matches leading to knock out stages. In the first U15 singles group Malati Rice (Bristol) went flying through her matches to win the group and Emilia Pitts (Wellington) concentrated well to make sure she won her last match to come through as runner – up. Felicity Riddall Bell (Cambridge) and Clemmie Batstone (Wellington) both served well to come through as winner and runner up of their groups. In the first semi-final Clemmie played Malati. Clemmie settled into the match very quickly with some consistent play and excellent volleys. Malati couldn't repeat the sparkling play of her group matches and in particular could not produce her earlier tight serving resulting a 6-2 win for Clemmie. The second semi-final saw Felicity v Emilia. This was a very even contest with Felicity returning serve so well and Emilia attacking the ball at every opportunity. Felicity's consistency just gave her the edge, winning 6–4. The final was a very close affair. Clemmie started off well with some immaculate nick serving to quickly take a 2–0 lead. Felicity raised her game with some stylish backhands, and it was soon 3-3. Clemmie hit some super volleys, but Felicity's consistency took her to a 6-3 then a 7–4 lead. Clemmie clawed back a couple of games but then Felicity started attacking the return of serves into the corners of the court again and finished off the match with an ace serve, winning 8–6.
In the first doubles semi-final Malati and Jessica played well at the beginning of the match forcing Issy and Emilia to make errors and so take a 3–0 lead. Once the errors were cut out and some super volleying Issy and Emilia took the set 6–3. In the next semi-final Lydia and Charlotte beat Clemmie and Daisy 6–2 with more attacking play. The final, an all-Wellington affair, was probably the best match of the day. Every player attacked the ball, along with hitting some superb volleys; Charlotte and Lydia showing a little more playing experience than Emilia and Issy winning 8–3 and with a fabulous winning cross court shot to the base of the tambour by Lydia.
The U19 girls on Sunday comprised of players from Wellington, Seacourt and Cambridge and it was good to see during the round robin groups just much they had improved. In the first group, Olivia Boulton (Seacourt) romped through her matches and was the clear winner of the group. Lila Hue Williams (Wellington) won 2 of her 3 matches and was runner-up, however, she had to wait until the completion of the next group, to know if she was the best runner-up. The second group was as competitive as the first one with once again one girl, Isabella Harvey (Cambridge) winning all her 3 matches to go through as group winner. The runner-up was Marina Hammond (Wellington) and on count back for games lost, Lila Hue Williams went through as best runner up having lost less games than Marina. In the first semi-final Cesca Sweet (Wellington) played Lila. This was Cesca's first match of the tournament having had a bye through to the semi-finals. She played very tentatively in the first game and as a result lost it, but it did not take long for her to get into her stride. She took command from the service end and won the next 5 games to win the match 6-1. The second semi-final Isabella played Olivia. The first game went to 40-all one point – Olivia taking it playing a wonderful backhand cross court winner under the grille. This gave her confidence, and she took a 3-0 lead. Isabella took the next game (another 40-all) using her pique serve to great success, but this did not affect Olivia who went on to win the match 6-2. This result didn't reflect the closeness of the match which included long rallies and excellent serving from both girls. The final proved to be a step too far for Olivia who showed signs of tiredness. Olivia played some strong cross-court forehands, but Cesca was able to retrieve these and make regular winners under the grille and winning gallery. Cesca showed us how well she can cut the ball and deserved to take the match 8-0.
There was just one group to be played in the U19 Doubles. Cesca Sweet and Lilly Redshaw (Wellington) were the group winners with Olivia Boulton and Marina Hammond second and so they played the final. Cesca and Lilly got a strong start and were soon 5-0 up but then Olivia and Marina fought back and won the next 2 games thanks to some great winners into the corners. However, Cesca and Lilly regained control by winning the next game to love, 6-2. There followed some excellent tennis in which Olivia and Marina fought hard, making winners against the tambour and under the grille. Despite this valiant effort though, Cesca and Lilly proved just too strong and went on to win the match 8-5.
All in all, it was a fabulous weekend of tennis! Our thanks to Dan, Adam and Alex for marking and to Josh Farrell from The Dedanists' Foundation for presenting the prizes.
Jill Newby and Alex Garside