MURTC visit the Home of Real Tennis…
Posted on October 29, 2017 | in NewsTicker | by Christie Fixtures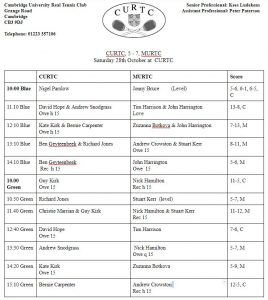 …for an Inter Club match on Saturday. Chris Bray dropped by to say hello, wish his team well and compare Tennis Hips (Tips?, Ed; No, Hips, Author; OK if you say so, Ed). After 11 hours (to the minute) of tennis, comprising of 4 Doubles and 8 Singles, MURTC edged the contest 7-5. Nigel Parslow got CURTC off on the right foot by overcoming the powerful boasting of Jonny Bruce in 3 sets. Done well as Jonny was doing, the Boast can be very effective if the depth is right. There also the added 'twist' in that I at least can never work out which way it is going to break after the umpteenth bounce of walls an floor.
For some strange reason most of the other Singles matches were a bit one sided. The one exception being Ben Geytenbeek who battled hard but lost the deciding game after his match had reached 5 all. (Except for the first Singles, all the matches were timed, hence the somewhat unconventional scores) The Doubles were a bit tighter especially my and Guy's 12-11 loss. We definitely put the 'slow' in start and soon found ourselves 3-1 and 5-2 down. We got our noses in front 6-5 and we traded games to 10 all. Our opponents were not afraid to give the ball an enthusiastic whack especially if they got to it before the ball hit the floor. Stuart (who started playing in April) was in great form all over the Court and played a number of powerful overheads right down the middle, always an effective direction for a shot in Doubles. We lost the crucial 21st game and slid behind 12-10. Although we got one back, the buzzer sounded and our time was up.
ps Just heard from Nick the MURTC match manager. They have scored the match 106-101 in CURTC's favour….So I think we will declare an honourable draw and try again next year at Middlesex!