The LRTA High/Low tournament hosted by CURTC
Posted on September 13, 2021 | in Match Report, Tournament | by Christie Fixtures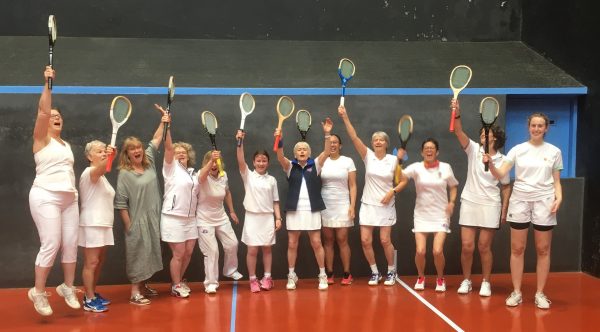 Anyone coming into the Club on September 4 or 5th, might have concluded an influx of (mostly) ageing lady tennis players had suddenly overwhelmed CURTC en masse. Not so – the Ladies Real Tennis Association (LRTA) was occupying the Blue Court for a tournament with the intriguing name of The High/Low: nothing to do with high v. low culture, or high v. low stature, but all about handicaps. The best player is paired with the weakest player; the second best with the second weakest, etc, which leads to some intriguing tactics as well as very close matches.
The High/Low is a popular event in the LRTA calendar – the first of the season, and of course this year the first for nearly 18 months. Not only is there the uncertainty of who your partner will be; there is also a lot of tennis played, as every pair plays every other pair over the weekend in matches of first-to-8. Older players conserve their energy (and knees) therefore; while the younger ones scamper around and do the leaping and scooting. Kees says that the format is not fair, as it penalises the best players; but maybe that's the point – don't bet your house against who will win, it could be any pair at all…
Local Cambridge players this past weekend included Camice Revier, Rosie Taylor, Jacqui Siu, Linda Fairbrother, Felicity Riddall Bell, and Vix and Bella Harvey (though alas the latter pair had to pull out at short notice when Bella ate a bad mushroom or something). Other players came from Paris (yes, indeed), Seacourt, Hatfield, Radley, Hardwick and so on, so a fair representation of LRTA members.
What was less usual was our youngest contestant – Felicity Riddall Bell, who has just passed her 14th birthday. She was a sensation, in a Little and Large duo (in stature, not weight) playing with Rebecca Kashti from Radley who was the strongest player in the tournament. Felicity may be Little in height, but Large in bravery – jumping, running, volleying and returning with delightful (and effective) enthusiasm.
Such is the maddening and possibly perverse format of the High/Low that the Felicity/Rebecca partnership did not get through to the semi-final knock-out stage, though another local player did. Rosie Taylor, the Belles captain, was in great form, paired with Di Wilson, a steady older player from Winchester. Their pairing showcased Rosie's terrifying cannon-ball ground strokes, backed up by her partner's steady safe play, to bring them through to the Finals and overall victory.
A special element of the event was the great support from the team of Kees, Adam and Ben who provided the backbone of a very complicated administration. Ben created a set of matrices that magically re-created themselves when entrants and results turned things topsy-turrvy; and Kees and Adam both went beyond kindness in donating vital marking time.
The usual bonhomie and supportive atmosphere was typical of LRTA events, which range from the British Ladies Open to coaching sessions for juniors held by Claire Fahey, and a very useful range of ladies' tennis clothes. Our most popular event of the year is the British Ladies Handicap, which caters for singles and doubles, and a wide range of handicaps from 80 to 40ish. If you want to test or improve your handicap, it is a good place to do it. If you want to enjoy good competitive matches, in a fierce but friendly atmosphere, then there's plenty of that, too.
Why not open the LRTA website (www.lrta.org.uk) and have a look at the "Join the LRTA" section which lists some of the benefits of membership and the events that we put on. All ages, all standards and even all genders are welcome. And talk to me if you'd like any more information.
Linda Fairbrother