University Student Cup: Finals & Results
Posted on November 28, 2019 | in Giraffe, Match Report, Tournament | by Christie Fixtures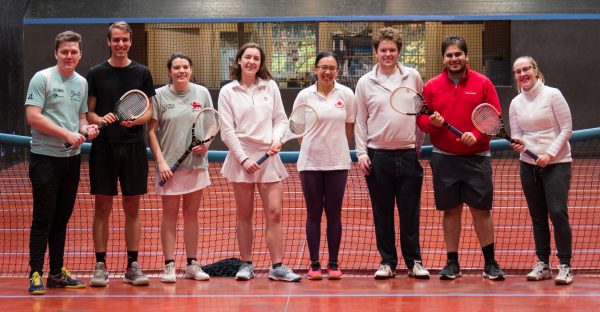 Sunday play began early, the pros clearing the blue court for play, but with the expectation that the sweat would worsen over the course of the day. So play began early, starting with the Division 2 quarter-finals. There were a few upsets straight away: Thursfield, who had only just made the knockouts by the barest of margins, found luck to be on his side against Whitworth, streaking to a 6/3 victory. Siu found the better of Roker, while Petti cruised past Furst and Waldock, all matches 6/2. The Division 2 Final matched up Petti and Siu. Petti through everything at every ball, trapping Siu down at the hazard end for enough games to come away with an 8/4 victory.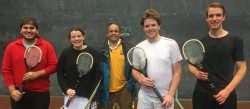 Meanwhile in Division 1, Bonaventura and Ahuja both looked strong, easily dispatching Geytenbeek and Tillson respectively, both matches 6/2. The final was a rematch of the previous evening, but seemed that Ahuja recovered better on the day and was able to play Bonaventura out of the match. The 8/2 scoreline did not reflect the high quality of the tennis, though Ahuja kept winning in the critical moments.
In the doubles, Ahuja and Blaksley continued their winning run against Bonaventura and Geytenbeek, the latter two not seeming to find a way to win on the Blaksley-Geytenbeek service games. Meanwhile, Petti and Siu were still too strong for Loyd and Roker, comfortably winning 8/4.
The Championship finals pitted the winners of each division against each other, and it turned out that the singles finalists were also the doubles finalists. In the doubles, Petti and Siu fought well against Ahuja and Blaksley, but the power hitting of Ahuja and volleying of Blaksley were things that neither of them had played against before, the lower handicaps winning 6/4. In the singles, the handicap difference was too big for Ahuja, with Petti stealing a 6/2 victory.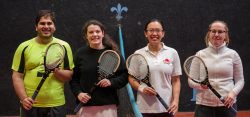 Thank you to the Giraffe Club for their support and Pol Roger for providing the prizes. Further thanks to Christie Marrian and Paul Brown for setting up the streaming, and to Kees, Peter and everyone involved with marking the matches. Also to the Captains and co-Presidents for their support in making the tournament a success.
Ben Geytenbeek
Full Results:
SINGLES RESULTS:
Division 1
Group A
3/24 Marc Bonaventura *
2/20 Ashwin Ahuja *
1/14 Ivo MacDonald
0/12 Jack Drew
Group B
4/24 Edward Tillson *
2/18 Ben Geytenbeek *
2/15 Sophia Lewis
1/15 Bobby Bruce
1/6 Toby Lawes
Semifinals:
Marc Bonaventura def Ben Geytenbeek 6/2
Ed Tillson lost to Ashwin Ahuja 2/6

Final:
Marc Bonaventura lost to Ashwin Ahuja 2/8
Division 2
Group C
3/24 Thomas Whitworth *
2/21 Edward Furst *
1/15 Miles Kempton
0/8 India Blaksley
Group D
4/24 William Waldock *
3/23 Ulla Petti *
2/16 Jacqueline Siu *
1/13 Emrys Thursfield *
0/13 Josh Loyd
Group E
4/24 Cameron Roker *
3/18 Rosie Taylor *
2/16 Vivek Haria
1/12 Bryony Perham
0/7 Camice Revier
Quarterfinals:
Thomas Whitworth lost to Emrys Thursfield 3/6
Cameron Roker lost to Jacqueline Siu 2/6
William Waldock def Rosie Taylor 6/3
Ed Furst lost to Ulla Petti 2/6
Semifinals:
Emrys Thursfield lost to Jacqueline Siu 3/6
William Waldock lost to Ulla Petti 2/6

Final:
Jacqueline Siu lost to Ulla Petti 4/8
Championship Final: Ashwin Ahuja lost to Ulla Petti 2/6
DOUBLES RESULTS:
Division 1
Group T
4/24 Ashwin Ahuja & India Blaksley *
3/20 Marc Bonaventura & Ben Geytenbeek *
2/18 Jack Drew & Ed Tillson
1/13 Bobby Bruce & Kate Kirk
0/10 Ivo MacDonald & Sophia Lewis
Final:
Ashwin Ahuja & India Blaksley def Marc Bonaventura & Ben Geytenbeek 8/5
Division 2
Group U
3/24 Ulla Petti & Jacqueline Siu *
2/19 Josh Loyd & Cameron Roker *
1/18 Edward Furst & Rosie Taylor
0/11 Emrys Thursfield & Camice Revier
Final:
Ulla Petti & Jacqueline Siu def Josh Loyd & Cameron Roker 8/4
Championship Final:
Ashwin Ahuja & India Blaksley def Ulla Petti & Jacqueline Siu 6/4