Varsity Match: Gals win 5-1, Lads 6-0 with Report
Posted on March 1, 2016 | in Giraffe, Match Report, NewsTicker | by Christie Fixtures
Congratulations to One and All….(Cap'n Sophie was off winning at Lacrosse and missed the dinner)
Cambridge News Report
and
Results
from T&RA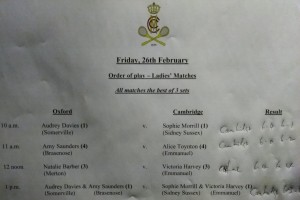 2016 Varsity Report from our undercover reporter….
The MCC was well prepared for Cambridge's 'almost vintage' victory last weekend against Oxford; Head Pro Adam even donned his Cambridge United top in support of the light blues.
All those watching witnessed the dismay of the Oxford 2nd pair, who were losing 2 sets to love in a best of 5 set match, when assistant Pro Mark declared 'third and final set'…. quite accurately as
it turned out. This evident bias was clearly contagious, spreading into the very heart of the Oxford team whose coach was overheard congratulating the Cambridge men on their thumping victory…after only the second match, with four still to be played.
The ladies were out first and won five of their six matches to the delight of Cambridge supporters. The team comprised veterans Sophie Morrill (capt.) and Venetia D'Arcy and newcomers to the Club Vix Harvey and Alice Toynton, with Amanda Murphy in reserve. It was (probably) the last year for all the players in this ladies team and a great one to finish with.
The Cambridge men's first team this year consisted of Ed Kay, Jamie Giddins, Alex Evans (capt.) and Freddie Kalfayan with Jimmy Campbell in reserve. Cambridge entered the contest favourites with an average handicap advantage above 10 points. However, the history of the varsity match has shown unexpected results to be common and, as such, the Cambridge players were keen to play to the best of their abilities. Ultimately they triumphed with a 6-0 victory after a
strong display of excellent tennis.
It was a great weekend for Cambridge Real Tennis to the great credit of the Pros and the support of the membership and sponsors. Both teams would like to thank everyone involved in this excellent Varsity win.