Blood, sweat and possibly tears in the 2015 CURTC 40-49ers Tournament
Posted on February 17, 2015 | in NewsTicker, Tournament | by Kate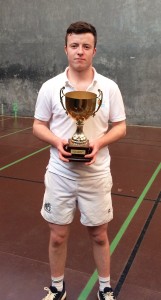 The 40-49 Category tournament took place onSunday 15th February 2015 and it turned out to be a case of 'survival of the fittest' or 'last man standing'. An assortment of knee, shin and calf injuries plus a nose bleed demonstrated how fiercely the tournament was contested.  Ed Hyde nearly pulled out with a leg injury after his first group match but bravely battled on, eventually winning his group and earning a semi-final place against Keith Beechener. Despite some keenly fought points Ed eased into the final with a 6-1 victory.
Topping the other group was Nick Heath who won all three of his matches and then also his semi-final against Jon Dawson by a margin of 6-2.
In the final Ed Hyde was in dominant form and allowed Nick Heath only five points as he took the final, and the title, 6-0.