David Hope triumphs again in the 60+ tournament
Posted on February 25, 2015 | in NewsTicker, Tournament | by Kate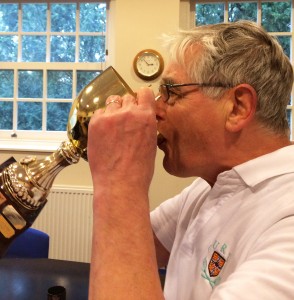 On Sunday 22nd February 2015 13 lucky members contested the CURTC Category Tournament for handicaps 60 or greater.  Spread across 4 groups and playing on both courts the group stages provided a few unexpected results based on handicap differences and the fact that these were all played off level.  The group winners who qualified the semi-finals were Tony Kennedy, Hugh Markus, Annie Plews and David Hope.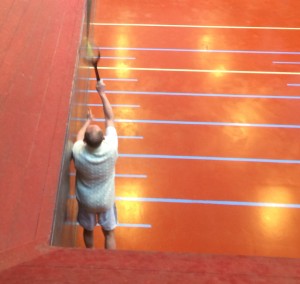 In the first semi-final Annie set herself up with a 5-3 lead but was gradually pegged back and a classic match went to 5 games all and 40-40 before Hugh won the final point. In the second match Tony Kennedy couldn't keep pace with last year's champion David Hope who took the match 6-3.
In the final David raced to a 3-0 lead before Hugh could register a game which he took to love. His success was short lived and David took the next three games to complete a 6-1 win and the 60+ Category Tournament for the second year running.
Results
Group Matches
Hugh Markus beat Duncan Hannay-Robertson 6-3
Tony Kennedy beat Howard Mason 6-0
Hugh Markus beat Terry Gardner 6-2
Howard Mason beat Charles Rowland-Jones 6-0
Duncan Hannay-Robertson beat Terry Gardner 6-2
Tony Kennedy beat Charles Rowland-Jones 6-3
David Hope beat Howard Richardson 6-1
Kate Kirk beat Jo Bartholomew 6-1
Annie Plews beat Richard Bowers 6-2
Kate Kirk beat Howard Richardson 6-4
David Hope beat Jo Bartholomew 6-1
Annie Plews beat Amanda Murphy 6-0
Howard Richardson beat Jo Bartholomew 6-1
Richard Bowers beat Amanda Murphy 6-0
Semi Finals
Hugh Markus beat Annie Plews 6-5
David Hope beat Tony Kennedy 6-3
Final
David Hope beat Hugh Markus 6-1