Cambridge vs Newmarket in the East Anglia Pennant
Posted on November 14, 2019 | in Match Report, NewsTicker | by Christie Fixtures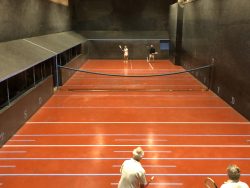 Many congratulations on yesterday's win over Newmarket. It was a close contest and very well-fought victory over a strong Newmarket side.
First up on the night was Julian who played well to win 6-3. In a slightly unusual order, up next was Julian and Alan in the first doubles, who struggled against the high quality Newmarket duo of Hugo and Ken, eventually losing 3-8. Alan then played his singles in a nail biter, narrowly losing 5-6. At this point Cambridge were 1-2 down and needed to up their game; up stepped Sonja who battled to win her singles 6-4. Sonja and Richard played extremely well to win their doubles 8-4. This left the overall score at 3-2, with only Richard's singles remaining. Richard settled any Cambridge nerves by winning his singles 6-1 in quick time.
This concluded the matches for the evening with Cambridge winning 4-2. The Newmarket team were all very friendly and the matches were played in a good spirit, which resulted in an enjoyable evening of tennis for both clubs.
Thank you all for sorting out the food and arriving on time.
Well done again!
Andrew Barker