CURTC Student Cup
Posted on November 28, 2021 | in Giraffe, Tournament | by Christie Fixtures
On this particularly cold, wet and windy late November day, spirits were high as eight of us participated in the 2021 Real Tennis Student Cup at Cambridge. The tournament began with two groups facing off on the Blue and Green Courts in a round-robin format. A commanding performance by Lucy Caines (Group B) earned her a spot in the semi-finals, with Alexander Kusztyk (Group B) and Zak Kooros (Group A) advancing as well from the group stage. An unfortunate injury sustained in Group A meant the semi-finals were also played as a round-robin. After three matches filled with exciting rallies, Alexander narrowly prevailed as the tournament champion and Lucy the runner up.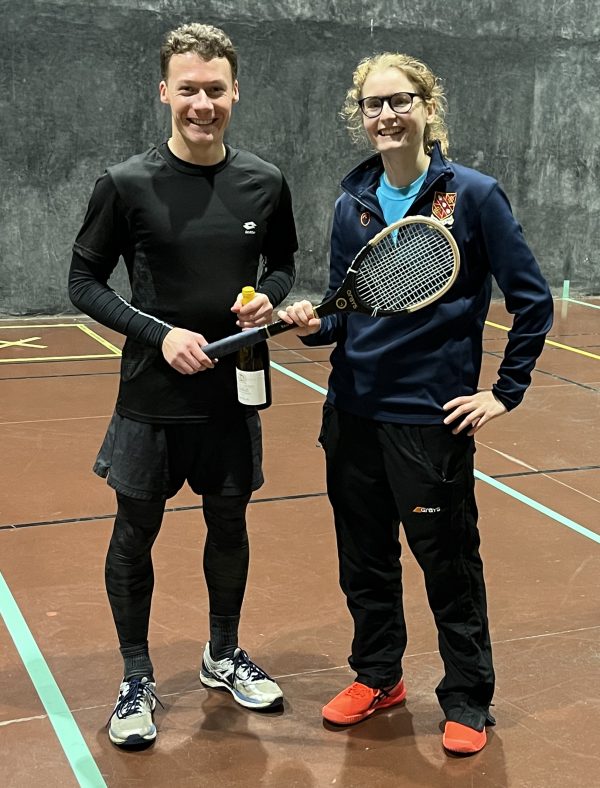 Overall, this tournament was immensely fun and proved a wonderful learning opportunity. At the beginning players scrambled to return every ball, but tactics soon took over as they began to contemplate each chase with care. Lucy hit quite a few screamers that put the 'fear of God' in the hearts of her opponents (and perhaps even unstitched a ball or two)! Zak's excellent serve was a challenge for all who attempted to receive. Also, Jack Ellis and Angus Warburg (both in Group B) put on a fantastic match for those spectating. There were indeed many more notable moments throughout the tournament, but alas, space is limited and it is time for me to end this report.
I would like to express my thanks to all who set up this tournament: especially to Kees Ludekens, Jim Ludekens and Peter Paterson for their helpful tips and markings as well as Victoria Harvey and Ben Geytenbeek for all their support.
Alexander Kusztyk