Gary Weller wins 40-49 Category
Posted on February 26, 2013 | in Tournament | by Christie Fixtures
The 40-49 category tournament was played on the weekend of 23rd and 24th February 2013. In the first group Jon Dawson powered his way through to take the first semi-final place with Keith Beechener clinging to faint hopes of best runner-up. In the second group David Pimblett took the honours with a clean sweep but things didn't go the way of the handicapper in a couple of matches – Christie Marrian (winner of the 50-59 tournament the previous weekend) returned victories over Glenn Nicholls and John Trapp. In the final group Mark Perriton, the man in black, swept everyone aside in winning the group. Gary Weller took the runner-up spot and won a play-off to enter the seni-finals.
Gary seemed to have used up all his resources when he quickly fell behind 0-5 in the first semi-final against David Pimblett, but he took the match 6-5 and became our first finalist. In the second semi-final Jon Dawson and Mark Perriton fought the battle of the squash giants, frequently trying to out-boast each other. Mark Perriton took the match 6-3 but six of the nine games had been taken to 40-all.
Mark Perriton and Gary Weller in the final. Both had battled their way through four sets of tennis in the day and Gary had suffered a defeat against Mark in their Group match. In addition Gary had to contest a play-off and a tough semi-final which nearly saw him off. Despite all this Gary took early control of the final and eased into an early 2-0 lead. They traded games for a while and Mark pulled level at 4-4. Gary then stepped up a gear and took the next two to win the match 6-4 and take the tournament title.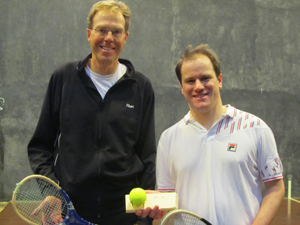 2013 category 40 handicap tournament finalists: Mark Perriton, Gary Weller
Keith Beechener