Varsity Match at Lord's
Posted on February 25, 2013 | in Giraffe, Match Report | by Christie Fixtures
On 22nd and 23rd February 2013 Cambridge University fought the latest Varsity encounter against Oxford.
The men's varsity match went down to a deciding doubles at Lord's this year. The team – James Watson, Jules Camp (captain), Alex Evans and Freddie Kalfayan – came out of Friday's play leading 2-0, having taken the first doubles match in straight sets and the second in a three-and-a-half hour titanic five-set struggle. But with four singles matches on Saturday there were no foregone conclusions.
Freddie Kalfayan won the first of the singles matches, but Oxford took the next three, levelling the score. Despite Freddie playing some unbelievable scoring volleys in the deciding doubles playoff, and James' vast experience (including National League Div 2 champion in 2012), the Oxford pair of Johnnie Beale and Miles Jackson stayed solid and came out on top 6-3, 6-5.
The Ladies' team had a big handicap disadvantage, but both Emily Brady (captain) and Imogen Whittam took their matches to 3 sets. Newcomer Karen Pearce, playing only her fifth competitive match, lost in straight sets, but shows a lot of promise for next year. Emma Samia-Aly, the 2012 captain, won in straight sets against the 2012 Oxford captain, Maggie Henderson-Tew. The two ladies' doubles matches on Saturday morning both went to Oxford in straight sets, but as is often the case, the score didn't reflect the closeness of the matches, with a lot of games going to several deuces and the final outcome hinging on just a few points here and there.
The club Pros were delighted by the effort and level of application of all our representatives and especially pleased that they all contributed to the successes of the event.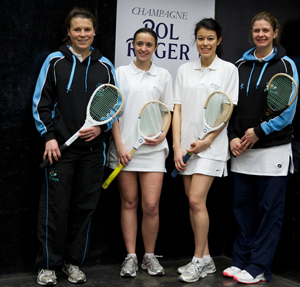 Varsity Ladies match at Lord's