National League Division 4 Final, June 4th 2013
Posted on June 3, 2013 | in National League | by Christie Fixtures
At a rather odd time of Tuesday at 11am, the Division 4 National League final took place at Cambridge against MURTC. Cambridge had faced their opponents in the group stage and came out on top, but historic results should never be relied on!
First up was Cambridge's Ed Kay, at number two singles against MURTC's Mark Rayner. Ed certainly started the stronger, chasing down everything Mark could throw at him and took a quick first set 6/0. Ed continued in a similar manner at the start of the second gaining a 3/1 lead before Mark started hitting back with his own perfectly executed shots that helped guide MURTC to their place in the final, and levelled the set at 3/3. But Ed responded and stamped his authority as he closed out the match 6/3.
Next up the number one string match between old rivals Alex Evans and Leon Smart. Leon got the better of Alex in their last meeting but now there was glassware at stake. But it was Leon who looked to repeat the result as he attacked everything loose and, coupled with Alex's uncharacteristic errors, won the first set 6/1. The second looked like a carbon copy of the first up to Leon leading 5/1 but suddenly Alex found his range. A couple of inches here and there and it was now Leon who missed targets and Alex who put the ball away. Game by game Alex dug his way into the set, and credit must be given to him for believing he could come back as he fought back to 5/5. Alex at the service end looked favourite but Leon gained the serve instantly. However Alex's returns found the length they needed to: he won the set 6/5! Drama! Leon knew he had to win the match to keep the tie alive and looked to have it in the bag at 5/1 but into s third set they went. Alex certainly had the momentum and continued in a similar manner to build a 3/1 lead. Leon, now slightly calmer than he had been a few games ago, reverted to a forcing game which gained him crucial points and mixed this in with a more classical game on the floor to get back to 3/3. Momentum swings were obvious in this match and Leon continued mixing it up, and while Alex was playing as well as he did in the latter half of the second set, it was Leon who powered through to take it 6/3.
It all rested on the final, third string singles. Cambridge's captain Jules Camp took on Nic James. They had met before a few years back, but both had clearly improved since then. The first set really could have gone either way, most games getting to deuce. At 4/2 up, Nic looked like he had enough to close the set out, but Jules hit back, starting to find the grille down the main wall more often and went into a 5/4 lead. Both players clearly had the mindset of gaining the service end as quickly as possible and dominating from there; Nic's fizzing backhand return certainly did the most damage as he got to 5/5 but with Jules at the service end, a couple of grilles and an error from Nic presented the first set point which Jules took. Game on! The second set started much like the end of the first, both players looking to gain a chase as early as possible from the receiving end. Games were shared up to 3/3 and although Nic had a chance to take the crucial 7th Jules hit a timely nick to force deuce and then the game. This seemed to be the turning point in the set as Jules was now spending much more time at the service end and, able to read Nic's return better, stayed solid to win the set 6/3; more importantly the title of Division 4! Certainly a well fought final, and many thanks to MURTC for their part in it.
Many thanks to Peter for marking all the matches in the final, and to the dedans for their support. Thanks and credit must also be given to the other members of Cambridge's Division 4 side this season, Andrew Petrie and Freddie Kalfayan, who both gained crucial wins in the group stages to ensure Cambridge had a home final.
Final result: Cambridge 2 – 1 MURTC
Alex Evans lost to Leon Smart 1/6 6/5 3/6
Ed Kay bt Mark Rayner 6/0 6/3
Jules Camp bt Nic James 6/5 6/3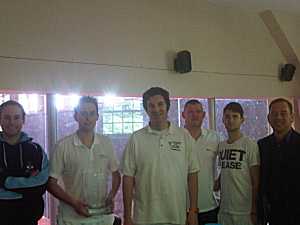 Alex Evans, Peter Paterson, Leon Smart, Jules Camp, Nic James, Mark Rayner