Cambridge Weekend, 11th and 12th May 2013
Posted on May 15, 2013 | in Event | by Christie Fixtures
Thrills, spills, a visit to A&E and dinner
The Cambridge weekend saw 36 players battling it out in the Handicap Doubles tournament, and a cracking final to this year's Graduate Cup. Four groups in Division 2 started at 8.00 am, and by the afternoon had been whittled down to two semi-finals, Richard Bowers & Smuts Beyers against Emily Brady & Kate Kirk, and Barny Couch & Virginia Meyer against Bernie Carpenter & John Bailey. One player was lost to an injured ankle along the way, but luckily X-rays revealed nothing serious. In the semi-finals, Richard and Smuts took their match 8-5, and Barny and Virginia won through 8-3. The final went to Barny and Virginia 8-4.
The Division 1 final pitted Keith Beechener & Gerald Smith against Jules Camp & Ed Kay. Plenty of exciting tennis, but the Varsity pair were too strong for Keith and Gerald, and despite facing 30 owe 40, won through in 8-5.
Saturday afternoon also saw the final of this year's Graduate Cup, between Bernie Carpenter and Ray Spencer. Bernie looked to be getting away with it, but Ray stuck in and took the match to 7-7. A tense final game went to 30-30, then Bernie pulled his socks up and took the next two points to clinch the title.
Sixty people then enjoyed dinner in the famous Cambridge Union Society debating chamber. Trophies, bottles of wine and applause greeted the winners, there was a special mention for the Blue Ball pub in Grantchester, the source of a batch of new players, and eventually we all trundled happily off into the night.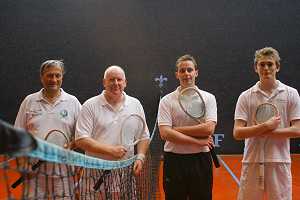 Division 1 Finalists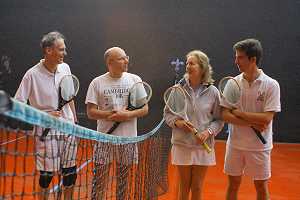 Division 2 Finalists