Petworth House Real Tennis Club visits
Posted on April 30, 2013 | in Match Report | by Christie Fixtures
Petworth visited on Saturday, April 27th (2013) for some keenly fought tennis. Petworth's team are definitely in the 'senior' category with one over 80 and two nearly 80, although this year the team included two relatively junior players one of whom has only just retired. This gave the match manager a few more headaches than usual in terms of player matching for the Doubles heavy format. The Pros were their usual help and included several cautionary tales in their pre-team selection briefing.
The CURTC team of seasoned (I prefer that term to senior) tennis aficionados proved up to the task and ended up 4-1 winners. Our ad-hoc Doubles teams involving Bernie (Graduate cup finalist) Carpenter, Eric (Green Court, please) Nutter, John (I do remember your father) Howard and myself were well prepared by pre warm-up introductions and proved to be too strong for our opponents especially on the Green Court.
On the Blue Court we were gracious enough to let our visitors win the first set as I had the excruciating experience of being made to look utterly inept by the over 80's precision returns into my forehand corner. Aided by a tactical shift (John served from the other side to give my backhand an outing), we nonetheless scraped home in the 3rd set. Two Singles matches followed the first of which must have tested the patience of all concerned especially the long suffering marker, Peter.
We were approaching one hour over schedule as the match relentlessly ground on to the seemingly inevitable 5-5 in the 3rd set although I did have to save several match points en-route. By this time Guy (two courts) Kirk had decamped to the Green Court to start playing his Singles. Back on the Blue Court, the score, of course, reached 40 all but I was on serve.. It was not one of my better serves, my opponent went for the Dedans, I got the sweet spot of my racket behind the ball but unfortunately it was too sweet and the ball arced into the roof..
Guy returned to the Blue Court to give a convincing demonstration of winning tennis to complete a straight sets, two court, victory.
Christie Marrian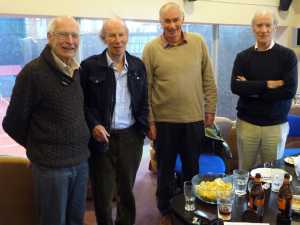 Petworth House RTC: David Bevan-Thomas, Tom Plant, Martin Paterson, Oliver Harris plus Ian Lambert (in shower)