Prested Hall cat 'F' Open Championships 25/26 March
Posted on March 8, 2017 | in NewsTicker | by Tom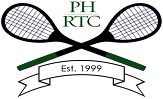 Prested Hall Real Tennis Club are holding an Open Championship for Category F handicap players, that is players with a handicap from 50 to 59, on the weekend of the 25th and 26th of March, and some on Friday the 24th if you can make that.
So far as possible, matches will be the best of 3 six game sets and will be in a knockout draw. Claire and Rob Fahey (World Champions and all-round nice people) are running it and have offered to help players travelling from eg Cambridge with a considerate match time. There is a good bar which does good food, and a swimming pool we can use between matches. They can even arrange accommodation for you.
Entries should be emailed to rt@prested.com NOW as the closing date is imminent. Cost is £34 (£22 for 28 and younger) payable now or on the day.