The 2020 NtVM
Posted on September 21, 2020 | in Match Report | by Christie Fixtures
The 6th edition of the 'Not the Varsity Match' was played over a number (4) of Courts and a number (2) of weeks rather than the single day (Sunday, September 20th) and two courts (Oxford/Radley) as planned. The new format brought a number of new faces to the Alumni squads facing off for the much coveted NtVM trophy fashioned from our sponsors', Pol Roger, wares. Divided into three groups, it was even-steven in the Good and Not-So-Bad sections but in the Beautiful group, the Not the Light Blues pulled ahead to clinch a 9 1/2 – 7 1/2 victory.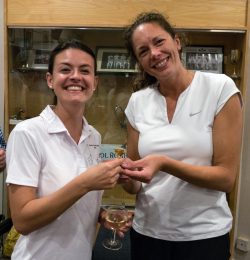 The MVP (most virtual player) was a tough one. The Jury narrowed it down to 4 players, two of whom won without conceding a game and two of whom lost from 7-all, 40-all. However, in the end incumbency proved vital and we have our first repeat NtVM-MVP in Sarah Lambie from RTC.
Thanks to everyone who took part and here's to NtVM7 which (hopefully) will be held at Oxford and Radley on the equivalent date next year with perhaps an expanded prequel at Courts across the Country/Planet.